Application Deadline:
December 1, 2023
---
Interview Notification Deadline:
December 15, 2023
---
Interview Dates:
January 5 & 12, 2024
---
Program Start Date:
September 1, 2024
---
Contacting GUAM-PIC:
Questions regarding the
application or interview process may be directed to either GUAM-PIC's Program Director, Dr. Mary Fegurgur, (
drmaryf@wiche.edu
) or to the program's WICHE consultant, Ericia Leeper (
eleeper@wiche.edu
).
Important Relocation Information and Frequently Asked Questions
Guam, with its tropical and rural environment, has many unique qualities that make it a great place to complete internship…and a potential relocation to Guam may have you asking several questions. The following information is intended to give some background knowledge on the island and provide insight into life on and about relocating to Guam. If you have any additional questions, please feel free to reach out to the Guam-PIC Training Committee (GPTC).
Life in Guam
Guam Visitors Bureau (2015) GVB Guide Book.
Håfa Adai! The island of Guam is in the Western Pacific and is the southernmost and largest member of the Mariana Islands and a part of the geographic region of Micronesia. Guam is an unincorporated U.S. territory governed under the Organic Act of Guam, a federal legislation passed by the U.S. Congress and approved by the U.S. president on August 1, 1950, granting U.S. citizenship to all Guamanian residents. Despite being the largest of the Micronesian islands, Guam is small; only 32 miles long and four to eight miles wide. Guam's primary source of income is tourism, and its second largest source of income comes from the military. Guam has two U.S. military facilities, the Naval Base in Santa Rita and Andersen Air Force Base in Yigo.
Guam has been proudly featured in Time Magazine as an "Unmissable Destination". Read the full article Here!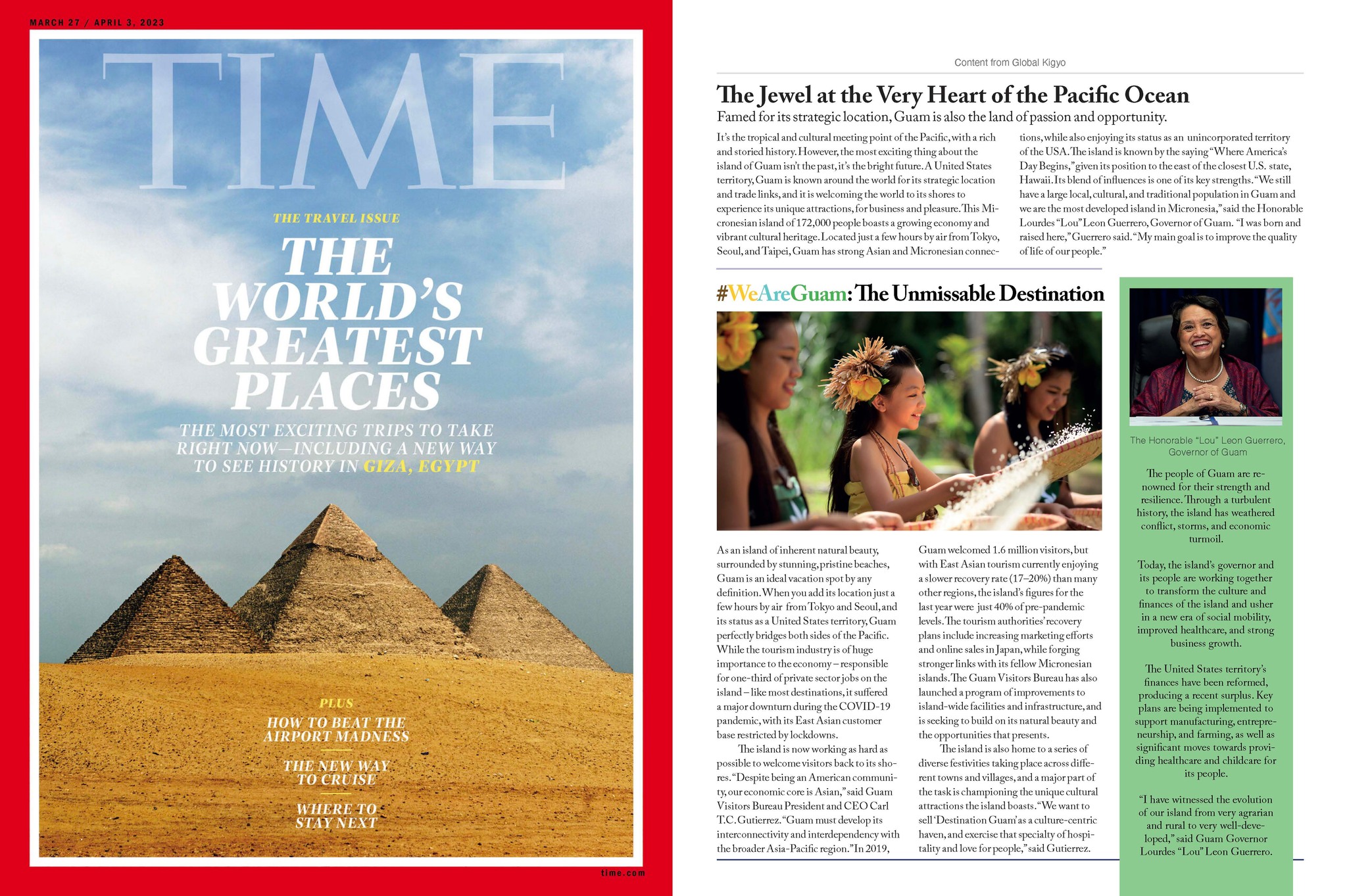 Guam's culture is quite diverse and has a long history of European colonialism, beginning with Spain who established a colony in the 1600s, occupied by the Japanese for several years at the beginning of World War II, and later liberated by the U.S. in 1944, prior to becoming a U.S. territory. Chamorros are the people indigenous to Guam and make up 37% of the population as of the 2010 census. About half of the total population (roughly 170,000 as to date) in Guam is Native Hawaiian and Other Pacific Islanders (including Chamorro), about 1/3 of the population are Asian (predominantly Filipino); and a small amount of the population that are White, Hispanic, Black, or other ethnic origins or races. English and Chamorro are the official languages of Guam.
Guam has a tropical climate with temperatures typically ranging between 70-90° F throughout the year and a wet season lasting between May through November (this is also Typhoon season). Guam is close to the equator, so don't forget your sunscreen! Some of the most popular pastimes in Guam include hiking, visiting one of Guam's beautiful waterfalls, engaging in various water sports, golfing, and frequenting Guam's beautiful beaches. Guam also has spectacular snorkeling and diving opportunities and is known for having incredibly rich marine life. There are additional activities for thrill seekers such as skydiving and parasailing.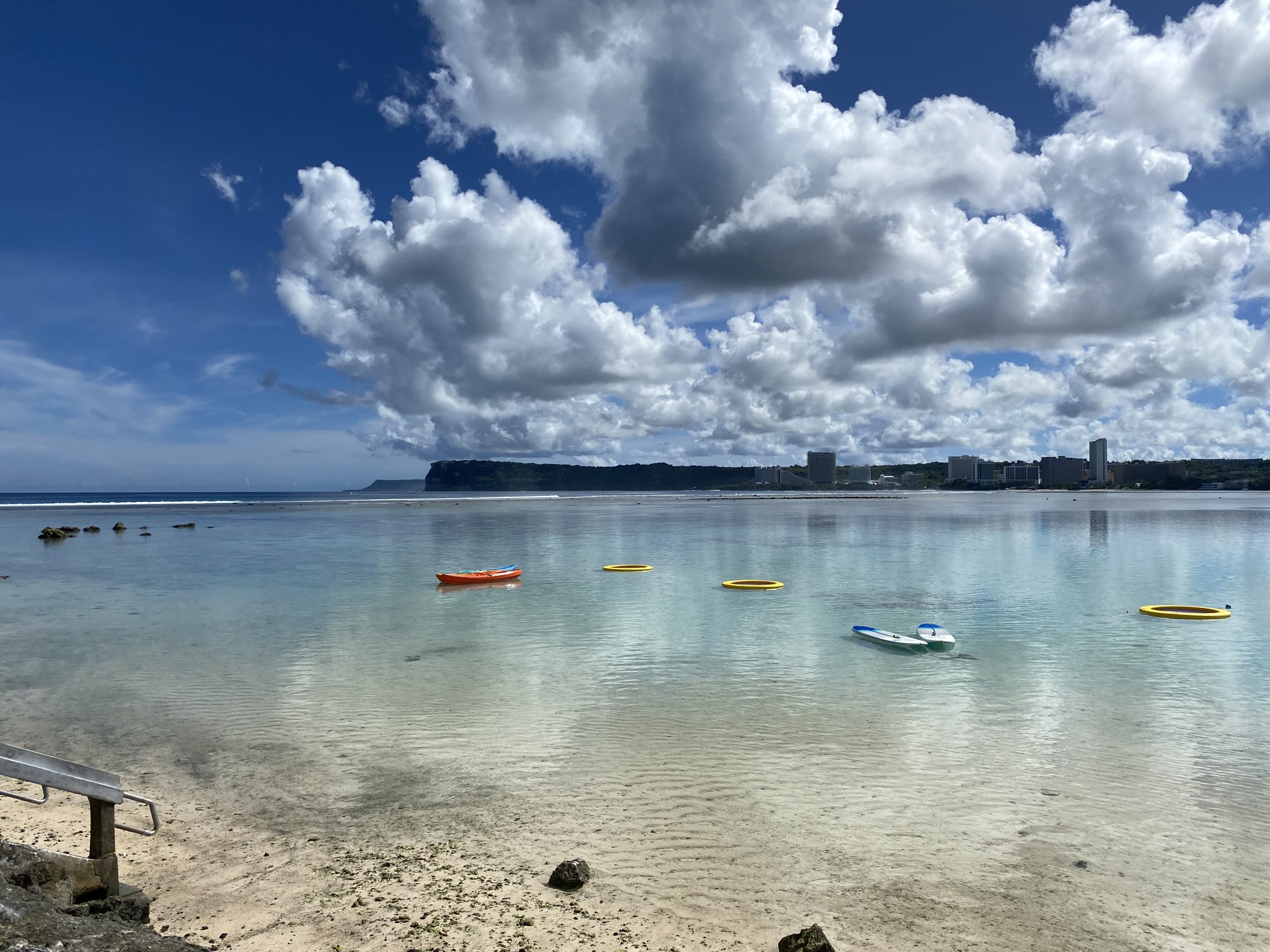 Guam is across the International Dateline from the mainland U.S. and uses the Chamorro Time Zone, formerly the Guam Time Zone, which observes standard time ten hours ahead of Coordinated Universal Time (UTC+10:00). The zone is 15 hours ahead of the North American Eastern Time Zone. Entry requirements for Guam are the same as for any U.S. destination. Passports are not required if individuals have a REAL ID-compliant license or another acceptable form of ID, such as a valid passport or U.S. military ID. Otherwise, a passport is recommended and is required for international travel.
Some helpful websites to explore to learn more about Guam, include:

Economic Impact Payment
Due to the impact of inflation, especially upon the airline industry, the Western Interstate Commission for Higher Education (WICHE) will provide each intern in the 2023-2024 cohort with a $2000 payment to offset increased relocation costs.
The payment shall be made within 45 days of orientation.

Most of the pre-employment process is completed once on island and must be completed before internship can start. Aside from the pre-employment process, there are several tasks that will need to be handled soon after your arrival. Make sure to plan as early as possible to ensure all tasks are completed. To prevent delays in starting the program and to ensure the cohort can start together, interns are strongly encouraged to arrive on island at least three weeks before internship begins. Be sure to talk to the current interns and Guam-PIC Training Committee (GPTC) for any specific recommendations they may have. The earlier you start planning, the smoother transition you're likely to experience.
1. Guam Cell Phone Number: You will need to get a local Guam cell phone number. There are sim cards available to make this possible for a cheaper option without having to purchase a new phone or start a new contract. Make sure to plan on a couple hours at one of the phone stores to get this set up.
2. Personal Important Documents: Please bring an official copy of your birth certificate and your social security card with you when relocating to Guam.
3. Housing: Look several months in advance for housing options. Make sure to note where GBHWC's main facility and primary satellite office and DOC are located when considering locations to live to avoid longer commutes, though the island is small, and your commute is likely to be shorter than what it was for your practicum site! Long-term, furnished rentals may be the most cost-effective option (e.g., through Airbnb, who also offer a discount for long-term, including 12 months, rentals).
4. Transportation: Guam has public transportation, but this may not be the most efficient or reliable mode of transportation for commuting while on internship. It is recommended interns secure a reliable vehicle for your internship year. Consider long-term rentals, leasing options, or purchasing a vehicle. Given the high military presence, it plausible and may be most cost effective to buy car when arriving and selling it before leaving.
While a bike, moped, or scooter are technically options, Guam has a tropical marine climate with a notable wet and dry season. The dry season lasts from January to June and the rainy season lasts from about July to December, which is a fair chuck of your internship year. Shipping a car is technically an option, but an expensive and possibly timely one. For example, cost of shipping a car through Matson from the mainland (i.e., Long Beach, Oakland, and Tacoma) to Guam is $3235.75, and shipping a car from the West Coast to Guam takes 14 to 21 days.
5. Guam Bank Account: You will need to sign up with a Guam Bank Account to be paid by direct deposit for your internship. Be sure to research your banking options, keeping in mind their locations, online capabilities, abilities to transfer funds to another account, and the time it may take to receive your debit card.
6. Doctors Appointment: Completing a physical on island within 30 days of your DOA onboarding is required and finding a primary care physician while on island is beneficial. Make sure to research different doctors on the island to find a good fit and schedule an appointment.
7. Pets: Bringing a pet to Guam can be an expensive and lengthy process. There are several steps that need to be completed. If you are planning to bring a pet with you to Guam, click here for more information to have everything planned well in advance before departing for the island.
8. Dress Code: Generally, the dress code for GBHWC is business casual. Interns, and employees in general, are expected to maintain an appropriate appearance that represents and fosters a good image of the organization consistent with their gender identity and expression. For the DOC rotation specifically, make sure to plan with Dr. Laygo about the dress requirements and cultural competencies of the prison. Some things to note include having close toed shoes and no revealing or transparent clothing.
9. Packing & Shipping: Interns are recommended to bring only what fits in suitcases and then obtain needed housewares once on island. There are many thrifty ways to obtain furniture and other housewares once on island. However, if you are committed to shipping additional necessities to Guam or if you're hoping to remain on Guam for residency, the most cost-effective way to move to Guam may be to check additional boxes on your United Airlines flight. United Airlines is the only commercial airline that flies from the continental US to Guam. However, there are many options, some are below.
a. Adding baggage/boxes on your United Airlines Flight: When flying economy, you're first checked bag/box is free, then $100 for the second bag/box, and any additional bag/box is $200. Per United Airlines Customer Services (as of 11/27/2022), there is no limit. For these amounts, the bag/box is a maximum of 50 Ibs and 62 linear inches e.g., length x width x depth. There is a $100 fee for an oversize box. Click here for United Airlines Baggage Calculator.
b. United States Post Office: Click here for the retail postage price calculator
i. Books: USPS media rates may be an affordable option. Scroll down to Media Mail.
c. Common Guam Shipping Container Companies: See the websites below for specific information.
ii. Matson
iii.Dewitt Guam
d. FedEx: Click here for the Rate and Ship Calculator.
1. How big is Guam?
Guam is 30 miles long and 4 to 9 miles wide.
2. What's the cost of living on Guam?
Generally speaking, Guam's cost of living is higher than the average cost of living in the continental United States, but it depends where you're moving from. Most metropolitan areas are generally more experience than or equally as expensive as Guam. For example, Seattle is generally more expensive than Guam, Guam is generally more expensive than St. Louis, and Guam is generally less expensive than Boston. Googling your town's cost of living compared to Guam's will provide you general information.
Based on information from the Guam Chamber of Commerce:
• Basic Utilities (Heating, electricity, gas) for two people – $350
• Cable Internet Service – $110.
• Average sit-down for Lunch: $17.50, Dinner – $37.50
• Gas (unleaded): $5.00 per gallon (as of September 20, 2022)
3. What the average cost of a 1-bedroom apartment?
You're likely to pay between $1000 and $1500 for an apartment on Guam, though depending on how cost-effective or lavish you want to be, you can pay less or more that than.
4. Do I need my passport or via while in Guam?
Maybe. If you are a US citizen, you can travel to Guam using your US driver's license and do not need a passport. However, if your flight would get diverted to a non US location for any reason (Asia is closer to Guam than Hawaii), it may be nice to have your passport with you. When relocating, it's best to bring your passport with you, especially if you'd like to travel to nearby places while in Guam!
5. Do I need a Guam Driver's License?
You will need a driver's license to rent a car when you first arrive on Guam. You can drive in Guam for a few months with your US Driver's license so long as it is not expired. You can get a Guam Driver's License and will need proof of identity, proof of birth, proof of US citizenship, proof of social security, and proof of residency. Please see Guam Department of Revenue and Taxation for additional information.
6. I heard Guam has tropical storms and typhoons. What is important for me to know?
Guam does have tropical storms and typhoons. Storm season is generally from April to November with the most severe typhoons generally occurring from August to November.
The best things you can do before a storm is to develop an emergency plan (e.g., knowing details of your landlord's emergency plan for your apartment building, know where the emergency shut offs are for your (rental) house, making a plan for your household should you be relocating with your family) and prepare a disaster kit (i.e., think extra bottled or jugged water, canned foods, battery operated radio and flashlight, personal contact information of your internship cohort and training committee members).
The best thing you can do during a storm is remain calm. The power may go out, but it is typically restored quickly. Most typhoons in the area do not make landfall. The last typhoon that made landfall was 9/22/2021 to 10/2/2021 and Merizo Village was the most effected. The most severe typhoon that struck Guam was back in 1997, Typhoon Paka.
Click here, here, here, and here for some additional information! To sign up for power outage alerts, click here.
7. I heard rumors about brown tree snakes taking over Guam. Is this a real thing?
Despite news stories to the contrary, the brown tree snake doesn't harass the people of Guam. In fact, the snakes are reclusive jungle-dwellers, content to stay away from humans wielding traps, machetes, or cars. You would only be likely to see a snake during a boonie stomp, an inexpensive guided tour to various locations (like waterfalls, mountains, caves, latte sites) or at UnderWater World, Guam's aquarium in a glass cage.
8. I heard there are a lot of stray dogs in Guam. Can I feed them?
In Guam, there are many stray dogs that roam freely around the island. Although it may be tempting to feed them, there are several organizations that kindly request you do not. These organizations are tasked with feeding and caring for the dogs on island. If you are interested in helping with one of these organizations, discuss this with your supervisor.
However, if you decide to feed to dogs, it is best practice to not feed any dogs on any private property. Many people leave their dogs loose to roam free, so it doesn't necessarily mean they are stray. Also many people do not collar their dogs. If you want to feed the dogs, please only feed the dogs that are on public property, such as near stores, gas stations, local parks, etc.
9. What's with all the military folks on Guam?
Guam has a large military presence given its convenient location. There are several bases on the island, the Naval Base in Santa Rita and Andersen Air Force Base in Yigo. The second highest source of income on Guam comes from the military.